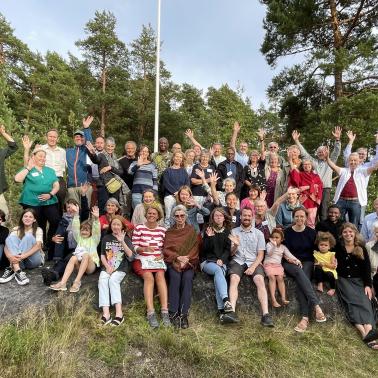 We were greeted by tall pine trees, a sparkling sea, a faint scent of tar and blueberries. At last it was possible to meet again! This time at the Orthodox cultural center Sofia in Vuosaari outside Helsinki. Over 60 participants came from Ukraine, Russia, Germany, Switzerland, France, England and from the Nordic countries. 
This gathering was part of a decision taken in 2019 to have a summer meeting every year in the Nordic region. In 2019 we met in Grebbestad, Sweden. The following year it was held over Zoom, owing to the pandemic. Last year was planned for Finland but postponed, again because of the pandemic.
Having Finland as host this year felt extra valuable as its proximity to Russia brought added realism and made it possible for several participants to come from Russia. Most of them returned home after the gathering to continue working for truth in the situations they are in.
A foundation for these inspiring days was the calmness breathed by the buildings in Sofia; there was a very beautiful Orthodox chapel where many before us have found strength and stillness. The whole setting made it easy to alternate exciting meetings with relaxing swimming and saunas.
We were all divided into small family groups which met in the morning and shared around given themes; in the afternoon there was a chance for those who wished to share their life story.
The theme of the conference was Faith, Hope and Love. Opening the gathering, Anja Snellman, a Finnish architect living and working in Paris, said: "The time we live in is overwhelming us with reason to be deeply worried. As a result of this we rather find ourselves with heavy hearts and closing doors. During our days together we wish to find out how to move against this by building trust and friendship, finding hope, finding peace for our minds and a place for us as individuals and a group. It is not only about what to DO, but who to BE in today's world."
Each morning there was a plenary meeting with speakers on these topics. Here are some excerpts from what was said.
Faith