The Fight against Corruption: What now?
When the war broke out in Ukraine, Yuliia and Yana had to flee to Norway with their children. During a Ukrainian evening in the IofC Centre in Oslo, they share their thoughts on the future in Ukraine.
– It is a difficult film to watch. We fought for five years without success, says Ukrainian lawyer and engineer Yana Zhurenko.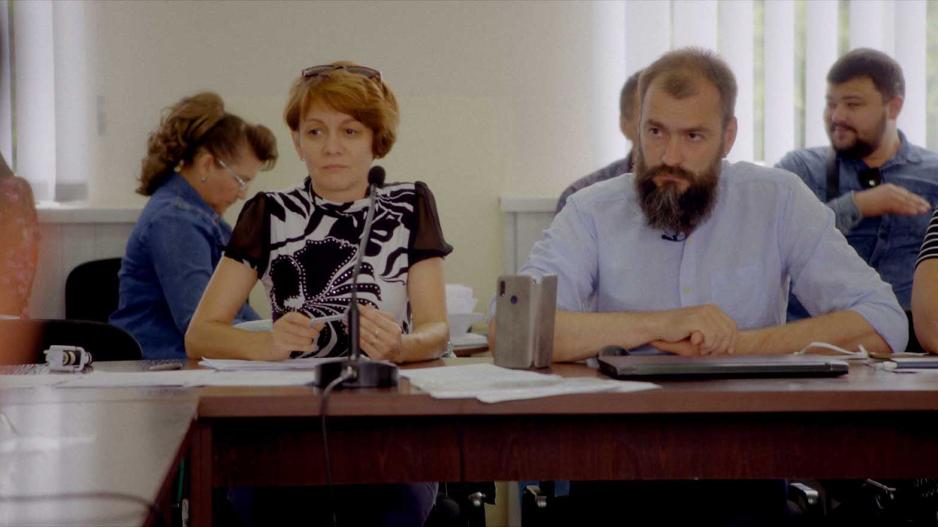 On the white projection screen in the main living room of Sophus, Initiatives of Change's centre in Oslo, the film Fortuna Valentyn plays. The film follows the local politician Valentyn and his colleagues, among them engineer and lawyer Yana and economist Yuliia Mahdenko (sisters), from 2018 to 2019. 
Yuliia and Valentyn, who sit on the city council in their hometown of Romny, have one goal: to crack down on corruption.
- For me, the film is a reminder of all the hope that has been lost along the way, Yana continues when the film is finished.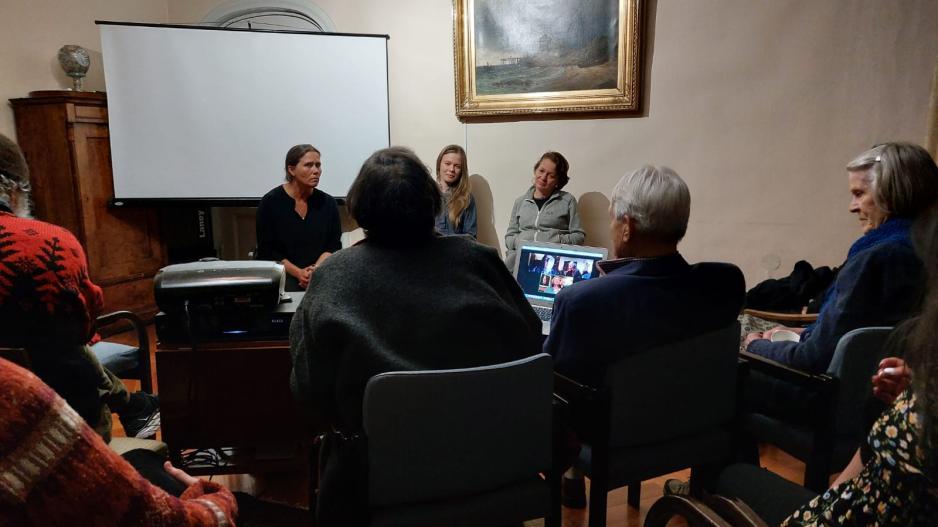 The revolution in Ukraine in 2014 meant a completely new everyday life for committed politicians: In the future, they had to stand up against corruption and crime in their hometown. In addition, Valentyn would try to cross the Black Sea in a kayak he has put together himself, to get a break from politics.
- It was a powerful experience to see the film about our Ukrainian friends' tireless struggle to create a better local community in Romny, says Ragnhild Østmo, chair of Initiatives of Change Norway.
- Despite their challenges, the film is a strong testimony of how right, important and meaningful it is to fight for what you believe in. Because even if you don't always see what the efforts lead to in the short term, the seeds that are sown will be able to germinate later. The fruits of our labour are often beyond our own control.
Today, several conflicts, a pandemic and a Russian invasion later, their lives have once again been turned upside down. Valentyn has become a soldier in Ukraine, and Yuliia and Yana have had to flee their home town with their children. They have since lived in Norway.
It is not their first time in Norway. In 2018, they came on a study trip with a delegation of Ukrainian local politicians, among them Valentyn. Through an exchange of experiences with Norwegian politicians and social actors and friends in Initiatives of Change Norway, they wanted to learn about how they can build good local communities in their home country.
Ukrainian evening in Sophus
When Yuliia and Yana invited people for a Ukrainian evening, Ukrainian food was on the menu, followed by a film screening by Fartuna Valentyn.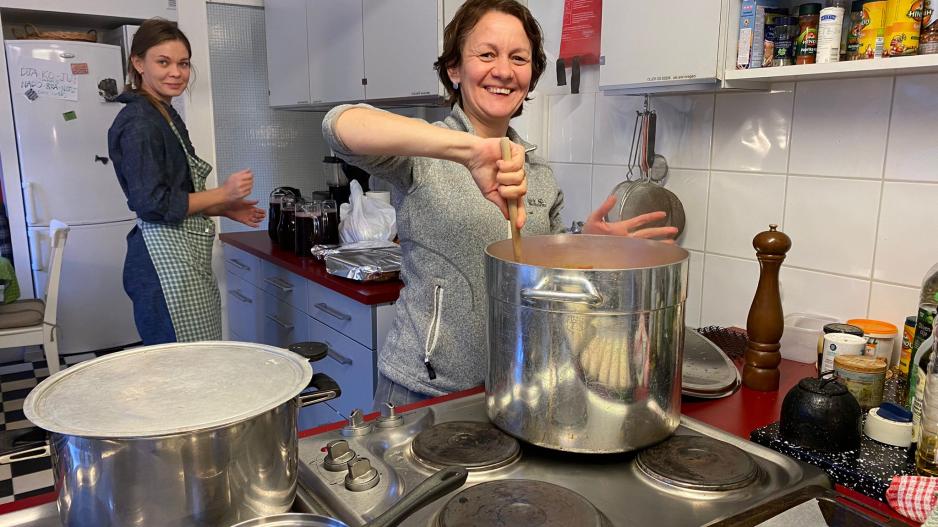 The main course was borscht, a traditional Ukrainian beetroot soup with chicken. Vinaigrette (Ukrainian salad), holubts (Ukrainian stuffed cabbage) and nalisniki (Ukrainian pancakes) were also on the menu.
- I think the food was really good, says 96-year-old Jens Jonathan Wilhelmsen, who has worked with Initiatives of Change since his youth.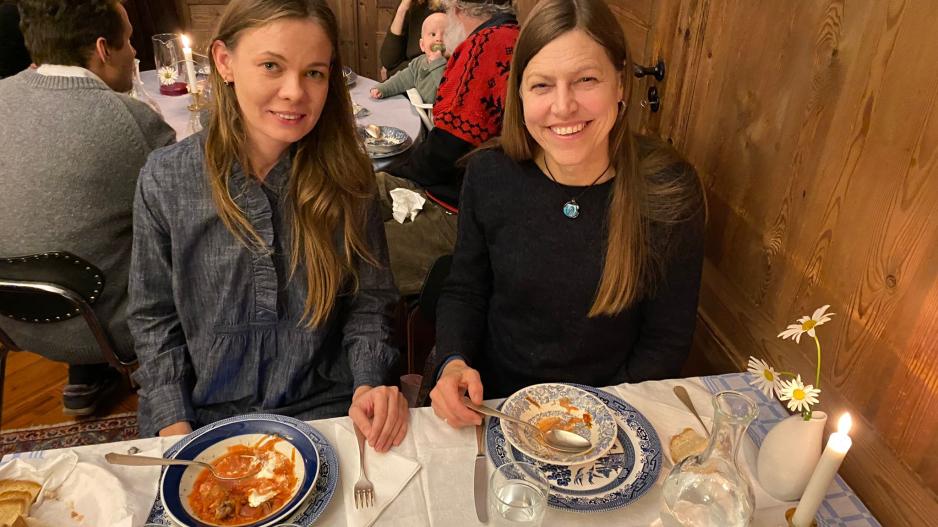 About 25 curious stomachs gathered in the dining room to taste Ukrainian food, prepared by the sisters. For many, it was their first encounter with Ukrainian cuisine.
An important community
Yuliia and Yana have quickly become part of the Sophus community. Both have lived together with their children in this historic home bought with the help of 300 people as a centre for what is today Initiatives of Change.
Now they live in their own homes in the neighborhood, but can be found in Sophus quite often. Here they bake cakes for the Christmas market, rake away autumn leaves during communal work, and take a lot of care of the garden.
- A Ukrainian evening like this is important for us to understand more of what they have fought for. They were once local politicians and fought against corruption in their homeland. Now they are refugees living in our midst, says Ragnhild.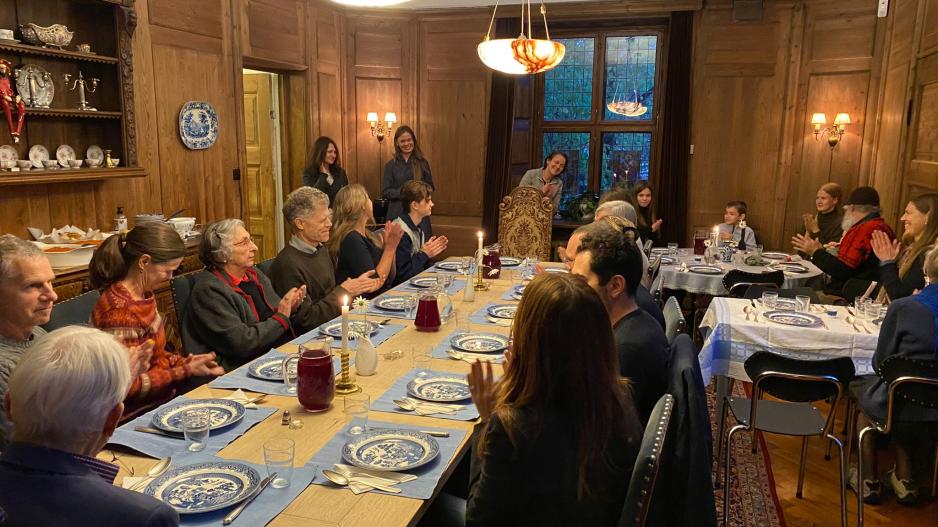 - That Yuliia and Yana spent two days preparing Ukrainian food for us is touching, she adds.
Jens Jonathan Wilhelmen was also left with a strong impression after the Ukrainian evening.
- It was striking to see the film and meet the people the film was about. What they had to say moved me. I felt that I gained a deeper understanding of what is going on in Ukraine. It is also different to meet those going through the war rather than just reading about them.
After dinner and the film screening, we heard more from the sisters.
- What can we here in Norway do for you? asks Camilla Nelson, Initiatives of Change worker.
- It is a difficult question to answer. We do not know what Ukraine will be like after the war. We have failed somewhere. It must be the result of something. I believe that we must look for a leader who can help us rebuild Ukraine from the ashes again, says Yana.
- Maybe we could get a visit from our friends in Norway when the war is over. I think we have a lot to learn from each other, Yuliia adds.